THESE CHARACTERS ARE VILLAINS!
Manaha are flesh eating mythical monsters that appeared in "The Tale of the Manaha".
Biography
They are mythical flesh eating monsters created by an evil native Shaman. They seem to be ape like creatures with red glowing eyes. However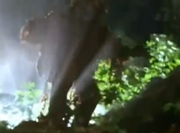 they only seem to exist to the victims who are afraid enough to believe in them. Because if a victim is brave and makes it known that they don't believe in them, they will disappear. Possibly all just an illusion to strike fear into victims by the evil Shaman.
See Also
Community content is available under
CC-BY-SA
unless otherwise noted.