This is a good character as well as a victim!
Matt Dorney, appeared in the episode "The Tale of the Curious Camera" He was portrayed by. Eddie Kaye Thomas.
Biography
he didn't seem to have many friends and was usually the victim of Kullback's constant bullying. This eventually made him literally feel invisible, which was why his school picture came back blank. The photographer Mr. Calhoun explained to him that since people make him feel like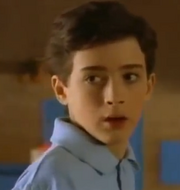 he's invisble, then that's how his picture will turn out.
Then as a cheer up gift Matt is given by Mr. Calhoun an old vintage black and white camera. Matt is soon finds 
out every picture he takes something horrible happens to what it shoots. First he uses this at his advantage to get revenge with Kullback. He stands up to Kullback, insults him and then takes his picture. Soon the picture predicted that soon Kullback would have a very painful accident. Kullback did a locker unexplainably fell down on his foot.
Matt is excited at first and considers who else to teach a lesson checking through his classroom picture. Then when he accidentally takes pictures of his sister Amy and their parents, he decides the camera is just far too dangerous for even him and destroys it eventually not realizing his computer will now be affected by the gremlin that was in the camera.
See Also
Community content is available under
CC-BY-SA
unless otherwise noted.