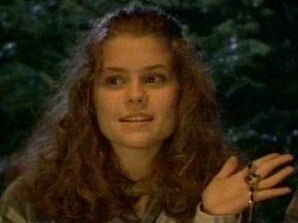 Samantha (often referred to as Sam) was a member of the original Midnight Society portrayed by Joanna Garcia.
Biography
Sam was a friend of Betty Ann who knew of the Midnight Society through Betty Ann. After Kristen and David left the group, Betty Ann invited Sam to become part of the Midnight Society. The group was surprised that Sam was a girl. She told "The Tale of Watcher's Woods" and stayed in the Society until its disbandment.
Gary and Frank had a crush on her from the moment she was introduced into the society. Though Sam liked Gary some episodes made it seem like she liked Frank back like "The Tale of the Closet Keepers". Before the events of "The Tale of the Night Shift", Gary asked her out and though she has feelings for Gary she turned him down because her job would prevent her from having the time to be in a relationship however at the end of the episode she told Gary that she didn't want to miss out on him and the two got together.  
Theme
Sam's stories usually tend to revolve around love, and how it can endure from beyond the grave.
Stories