This Magical Item is Evil!
The Twisted Claw, is an evil magical item from the episode "The Tale of the Twisted Claw".
Information
The item was kept in possession of Miss Clove, a witch who was unknown to be either good, bad or neutral. The night before hallowe'en, two young boys named Dougie Freeman and Kevin rang her doorbell. When she answered she was sprayed in the face with shaving cream. She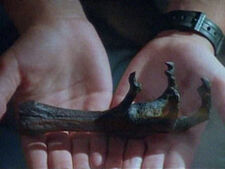 then backed into an expensive looking vase, which fall down and smashed on the hardwood floor. As payback she waited for them to come to her house the next night on Hallowe'en. She treated them with this item, enabling it to give them three wishes a piece and warned them to be careful what they wished for.
This item caused Dougie and Kevin lot of mayhem. First one of them accidentally wished to lose the rest of their hallowe'en night. This accidental wish, caused them to be encountered by mean bullies who took their candy and tried to chase them down and beat them up.
Second, Kevin wished to beat the school's top athlete in a 600 race, however this victory came with a price. It caused the person who was supposed to win (Bostick) to trip over a dog who ran by causing him to fall down and injure his leg.
Third, when they were arguing over what to do about the Twisted Claw, Kevin frustrated, accidentally wished Dougie would lose his parents causing them to get involved in a car crash.
Fourth it caused Dougie to accidentally wish for his deceased wise grandpa to return from the grave to come over and give him advice.
Finally the boys wished they never pulled their prank on her and broke her vase. Then all their wishes were reversed like they never happened.
Community content is available under
CC-BY-SA
unless otherwise noted.