Evangeline "Vange"
was a member of the New
Midnight Society
portrayed by
Vanessa Lengies
.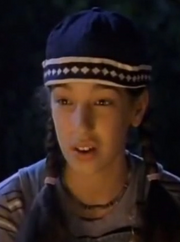 Biography
Vange (short for Evangeline) is the youngest of the New Midnight Society (she is the youngest of the group, possibly a high school freshman). She is a tomboy and doesn't have a problem with speaking her mind. Teamed up with Quinn she makes fun of Andy a lot.
Theme
Vange's stories have little in common though most seem to be about how wanting something too badly can cause the main character to play into the villain's hands.
Stories